Design !

Story(s) of … 50 cult objects



February 4 –  April 30, 2023
Do you know the design ?
Between form, function, material, innovation, utility, originality and aethetics, design is a balancing act.
Versatile creator, the designer is sometimes considered as an author, even an artist, sometimes as a creator who puts his expertise at the service of usefulness and efficiency. The English word « design » comes from the old French « desseing » which means both « drawing » (the form, aesthetics : a formal object), and « aim » (the use, the objective : an object thought, mental, intellectual).
Liked to the rise of industrial production in the 20th century, design remains little known and little understood by the general public despite its role in everyday life. It is readily associated with choices of  « stylized » shapes, « contemporary » lines. We rarely know the authors.
In line with its previous general art history exhibitions (Contemporary Aubusson Tapestries ; The Triumph of Color, a history of color photography), the Centre d'art de Crest offers a journey into the story of a discipline, design, through fifty cult objects. Some are famous – they were designed by masters and sometimes their use took hold in the homes of the 20th century Western homo sapiens. Others are less known because they were designed by anonymous people or because their destiny is more modest.
The exhibition thus offers a discovery of design in the form of an initiatory exploration, a subjective reading that gives prominence to sensitivity, authors and stories. 50 ways to enter a history of design through a content-rich journey.
With creations by Le Corbusier, Charlotte Perriand, Marcel Breuer, Dieter Rams, Philippe Starck, Matali Crasset, Raymond Loewy, Roger Tallon, Ettore Sottsass etc., a pressure cooker, chairs and tables, a pen, a watch, computers, televisions, a juicer,  lamps…
Testimonials from active designers are included in the exhibition.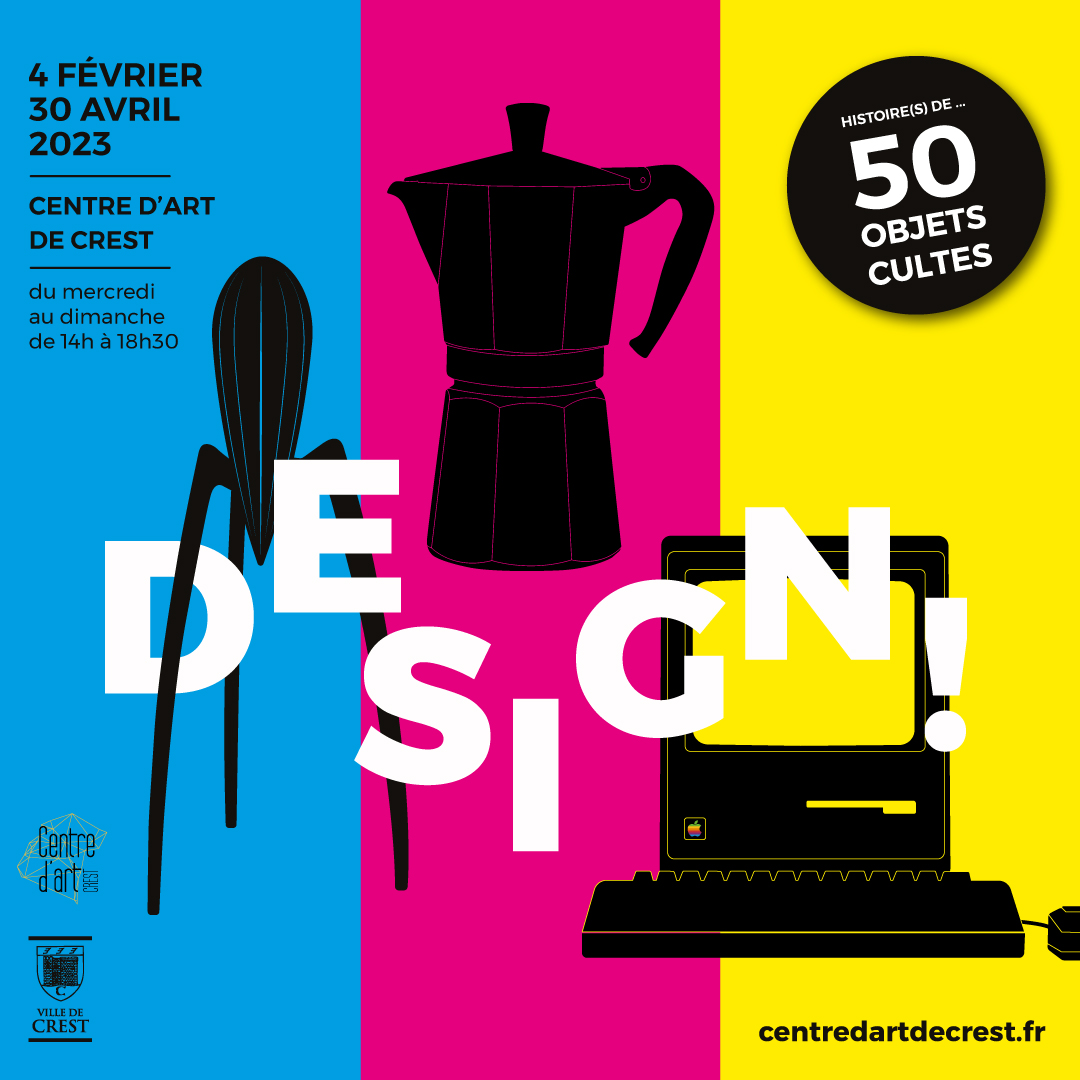 # Meeting with designers

Wednesday, March 29 at 6:30 pm
The Entre Autre studio (Crest) will present its « desire what is thrown away » coffee maker and Thomas Merlin will introduce you to the Canoë chair from FabUnit (Eurre).
Free admission, limited seating available. Reservation recommended on 04 75 76 61 38 or reservation@mairie-crest.fr.
# Meeting with a collector

Sunday, April 2 at 4 pm
Meeting with Martial Duvert (Galerie Duvert) who will introduce you to some emblematic objects from his design collection, present in our exhibition.
Free access with the Art Center entrance ticket
# Meeting with a collector

Wednesday, April 19 at 5 pm
Meeting with Patrik Jonas, design lover, collector and lender of objects present in our exhibition.
Free access with the Art Center entrance ticket