The triumph of color

An history of color photography in the national collection of the historical monuments

april 15 – june 12 2022


The Mediathèque de l'Architecture et du Patrimoine (MAP) is an establishment of the Ministry of Culture. In 2020, it organized with the Centre International de Cerisay (CCIC) and the University of Rennes 2, a symposium devoted to color in photography. On this occasion, the MAP offered the Saint-Lô media library to explore its collections to retrace the history of color photography. It is this exhibition that is presented at Crest, with minor adaptations.
Indeed, even if its name does not indicate it, the MAP is the heiress of a public service which was a pioneer in photography : the Photographic Archives service. Since the middle of the 19th century, this service has increased its collection through donations and purchases, or by organizing photography campaigns itself. Attached to the Department of Historic Monuments, he quickly became interested in fine arts in general, was mobilized during the First World War, always in a documentary logic. From the middle of the 20th century, when photography was gradually recognized as an art in its own right, it welcomed donations from artist photographers.
With several million negatives and prints, this collection, one of the largest in France, tells the story of color photography, from its initial technical difficulties to its current domination.
# Guided tour – meeting

Friday, April 15 at 11 a.m.

The Art Center invites you to discover the Triumph of Color exhibition alongside its curator Mathilde Falguière, heritage curator and head of the photography department of the Médiathèque de l'Architecture et du Patrimoine.
Registration at reservation@mairie-crest.fr, subject to availability.
All ages, entrance fee to the Centre d'art.
# Guided tours for groups and schoolchildren

Information and reservations on 04 75 76 61 38 or culture@mairie-crest.fr

School visits are offered free of charge by the City of Crest
Jacques Clerc

Sculpture, Engraving, Artists' books

July 13 – October 16, 2022

Jacques Clerc was born in 1931 in Lons-le-Saunier. After a stint in Paris, he moved to Crest in 1956 where he still resides today.
Professor at the Beaux-arts de Valence from 1965 to 1991, Jacques Clerc is a sculptor, engraver, publisher of artists' books and typographer.
His plastic research is essentially expressed outside of figuration. His work is characterized by a work of the material (printed paper, metals, wood, plaster) where the gesture retains an artisanal dimension, in the noble and technical sense of the term. His work is also marked by numerous collaborations and friendships with authors or artists. Finally, an important place is given to writing in his creations.
The Centre d'art de Crest is the natural and ideal setting for discovering or rediscovering the richness of this artist.
A publication, produced by the City of Crest on the occasion of the exhibition, allows visitors to extend their immersion in the artist's work.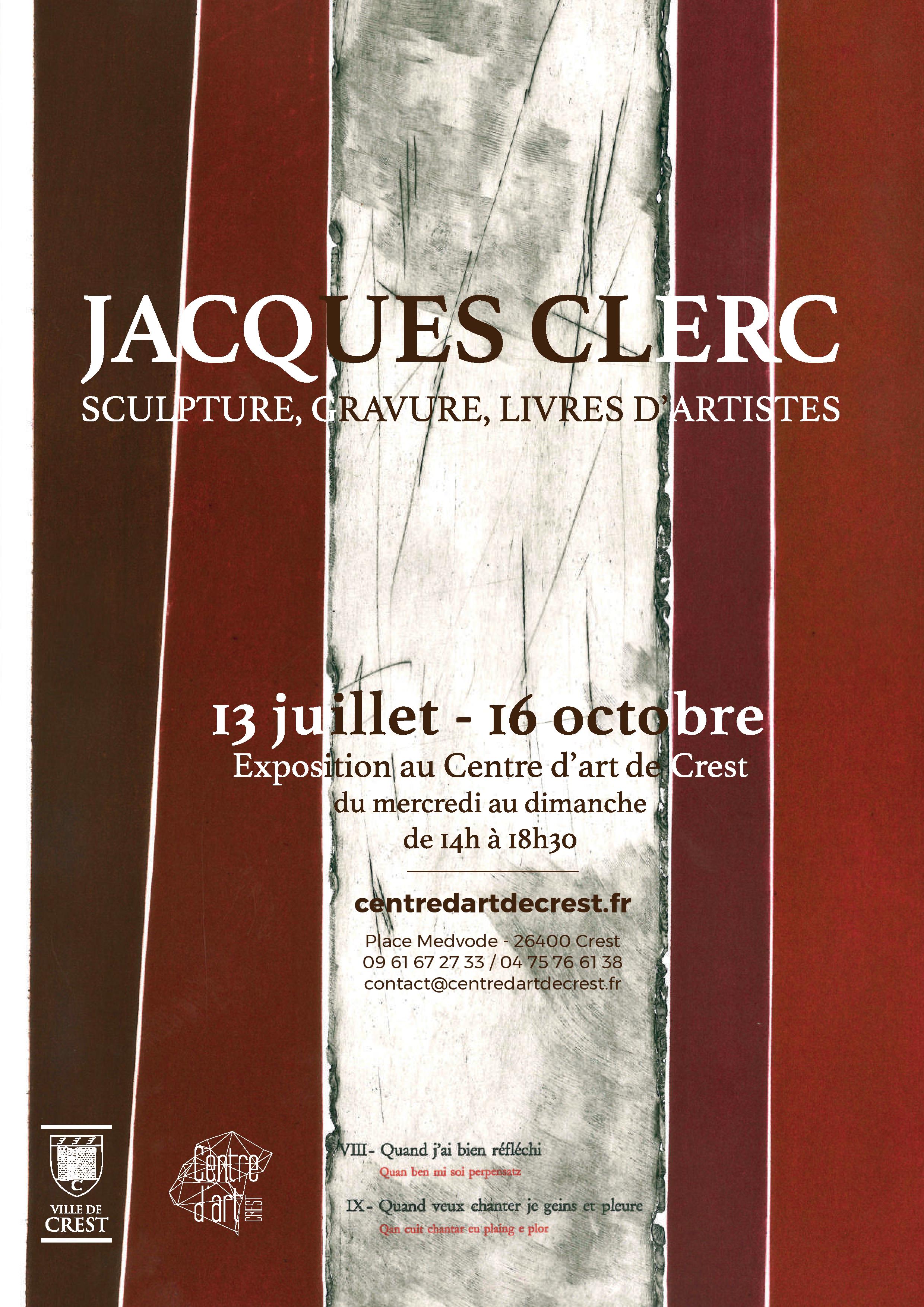 Friday 26, saturday 27 and sunday 28 of august at 4 p.m. : guided tour of Jacques Clerc exhibition

Recommended reservations on 09 61 67 27 33 (during opening hours) or at contact@centredartdecrest.fr
All ages, entrance fee to the Centre d'art