EXHIBITION Spring – Summer 2021

The Ephemeral Museum of Crest
Discover artifacts that tell stories of Crest and its region

19 May – 19 September 2021

Crest opens a museum !

The Crest Art Center is transformed  into the Ephemeral Museum of Crest and the Drôme Valley.

This is a temporary exhibition which, for several monhts, tells the stories of the city, its region and its people.
The principle ?
Create a collection, for the duration of an exhibition, by bringing together significant objects, which together constitute a museum of art and history :
– Historical past : documents, letters, archives, objects, photographs, etc. ; symbols, reflections, witnesses of a period, a collective or individual event ;
– Industrila, agricultural, artisanal, commercial past : objects referring to businesses, activities or professions that have disappeared in particular ;
– Intellectual and cultural, artistic history ; architecture, town planning, transport, sports and leisure activities, etc. ;
– Interesting objects from a documentary or art history point of view unrelated to local history.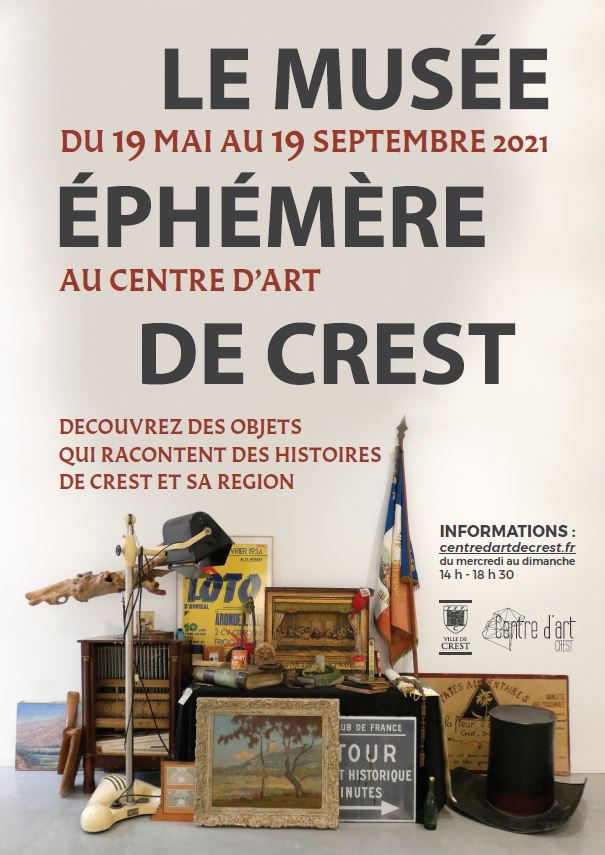 Some objects to discover at the Ephemeral Museum

Focus on… – Episode 1 :
The Bret couscous
Focus on… – Episode 2 :
Posters of Véziant printing company

Focus on… – Episode 3 :
The Miroir des François

Focus on… – Episode 4 :
Anne Pierjean

# European Heritage Days
18 and 19 september 2021
During the European Heritage Days, the Art Center of Crest invites you to discover the exhibition The Ephemeral Museum of Crest in a new way.
Saturday 4 pm : Meeting on Anne Pierjean
Works and personal items of Anne Pierjean, a children's literature writer who spent most of her life in Crest, are presented in our exhibition. Anne Grangeon, her daughter, will present the book If I look over the shoulder of my life…, a posthumous collection of Anne Pierjean's writings intended for adults.
Sunday 4 pm : Guided tour of the exhibition
Free activity, without reservation and subject to availability.
The Duvert Gallery located next to the Art Center is also open and free entry, don't hesitate to visit it!
For the full program of events planned in Crest, go here.